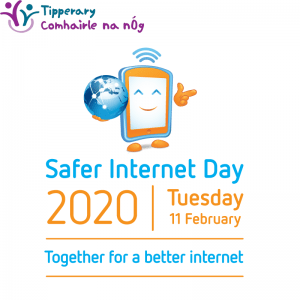 ‼️
February 11th, 2020 is SAFER INTERNET DAY
‼️
Today is Safer Internet Day and Tipp Comhairle are celebrating by helping young people stay educated on the positives and negatives of the internet!
It's no doubt the internet has transformed our daily lives in a positive way but with this comes a huge responsibility. Cyberbullying and online harassment is something we have all either witnessed or have been a victim to and is something we must work together to put an end to.
If you or someone you know is being harassed online, tell an adult you trust! Don't join in sharing any posts or comments that could hurt someone and if you see hurtful comments, report them!
You are in control of what you post online so remember to be KIND and be SAFE!!!
Linked below are useful resources to help YOU stay safe online!
Connected from PDST Technology in Education on Vimeo.
Based on real life experiences, Connected is a short film exploring how young people communicate and connect online. The film encourages young people to reflect on why their actions matter and the impact it can have on others.
This video depicts the stories of two teenagers subjected to online sexual coercion and extortion. The purpose of this video is to inform young people that this behaviour is a crime, raise awareness of how to protect themselves online, where to find help and support and to give them Ctrl!
Music producer & Artist – Bitter Rocc made this short clip encouraging us all to do something to tackle online bullying for the Safer Internet Day. It's part of an anti-cyber bullying campaign called #UP2US.
For more useful resources check out webwise.ie!