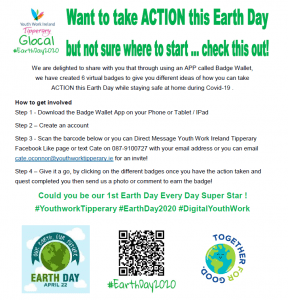 Step 1 – Download the Badge Wallet App on your phone or tablet/
Step 2 – Create an account
Step 3 – Scan the barcode in the above picture or DM Youth Work Ireland Tipperary, Tipp CNN or text Cate on 087-910-0727  with your email address or email [email protected] for an invite!
Step 4 – Give it a go! Click the  different badges once you have the action taken and quest completed. You then send Youth Work Ireland Tipperary a photo or comment to earn the badge!
Could you be the 1st Earth Day Every Day Super Star?!