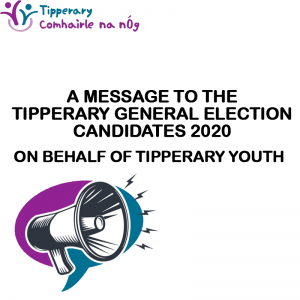 Last week, each candidate running in the General Election for Tipperary received an email from Tipperary Comhairle na nÓg in regards to young people in Tipperary and their stances on what they could do for the issues that matter to us.
It's disappointing to say that only 4 of the several candidates we emailed got back to us. Michael Lowry Rd, Mattie McGrath TD, Sandra Farrell  and our Tipperary subgroup had a personal visit from Rob O'Donnell where they got to ask Rob questions about the issues important to them such as Climate Action, Transport and Disability services
Although the majority of us are not of voting age some of us ARE, and WILL be voting in the General Election on February 8th. It's clear to us now who does and who does not care about young people and issues affecting young people in Tipperary and this will be impacting the choices we make when voting.
We ask that the candidates remember why they are running to represent Tipperary in the Dáil, that they remember they must represent ALL people within their constituency, not just those who are of a certain age or generation.
In the current political climate young people have been more involved as ever, especially in Tipperary. Every vote matters just as much as every voice matters, that includes both the voices and votes of young people.
Tipperary youth matter too, and their voices deserved to be heard just as loudly as the voices of their parents and grandparents. We deserve a government who will advocate for us just as much as they would for anyone else, remember that when you cast your vote.
– Tipperary Comhairle na nÓg